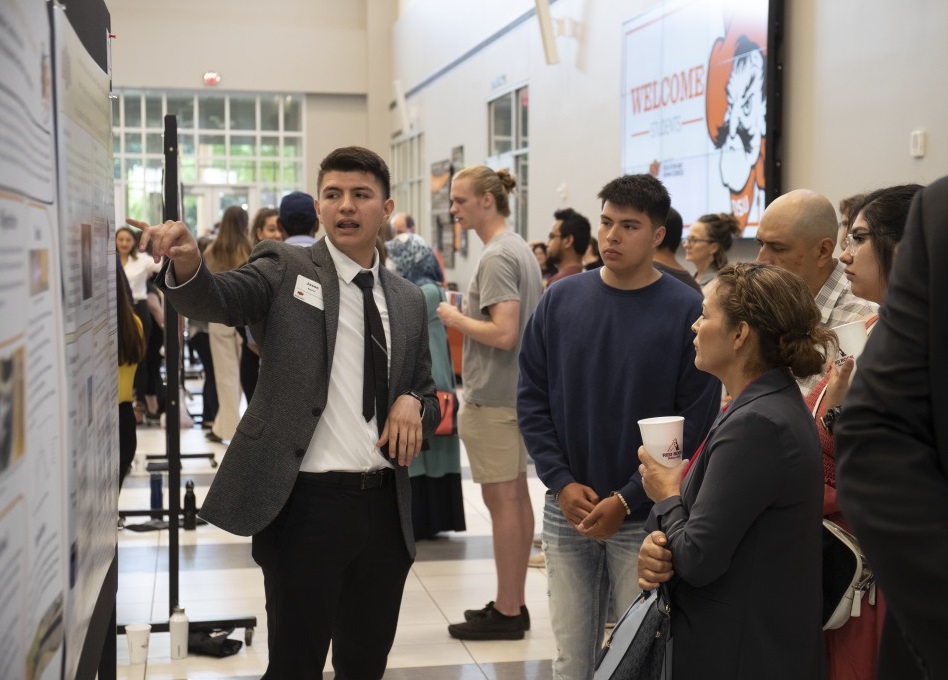 Undergraduate Research Symposium
April 19, 2022
ConocoPhillips Alumni Center
The annual Undergraduate Research Symposium is an opportunity for undergraduate students to present what they have learned through their research experiences to the OSU campus community. We welcome all OSU faculty, staff, and students to attend! The event is open to the public, and community members/industry partners are welcome.
Note: Presentations are grouped by the student's area of research (based on the faculty mentor's academic department), not the student's academic major.
Symposium Schedule
All sessions held in Click Hall of the Conoco-Phillips Alumni Center.
11:00 am-12:00 pm
Poster Session C: Education, Humanities, and Social Sciences
Agricultural Economics; Communication Sciences and Disorders; Community Health Sciences, Counseling and Counseling Psychology; Design, Housing and Merchandising; English; Finance; Hospitality and Tourism Management; Kinesiology, Applied Health and Recreation; Languages and Literatures; Media and Strategic Communications; Political Science; and Psychology (31 posters)
VIEW SESSION C PARTICIPANTS
(PLUS PRESENTATION TITLES & FACULTY MENTORS)
1:00-2:00 pm
Poster Session D: Physical Sciences and Technology
Architecture; Biosystems and Agricultural Engineering; Civil and Environmental Engineering; Electrical and Computer Engineering; Industrial Engineering and Management; Mathematics; Mechanical and Aerospace Engineering; and Physics (34 posters)
VIEW SESSION D PARTICIPANTS
(PLUS PRESENTATION TITLES & FACULTY MENTORS)
Abstracts
View presentation abstracts by program session.